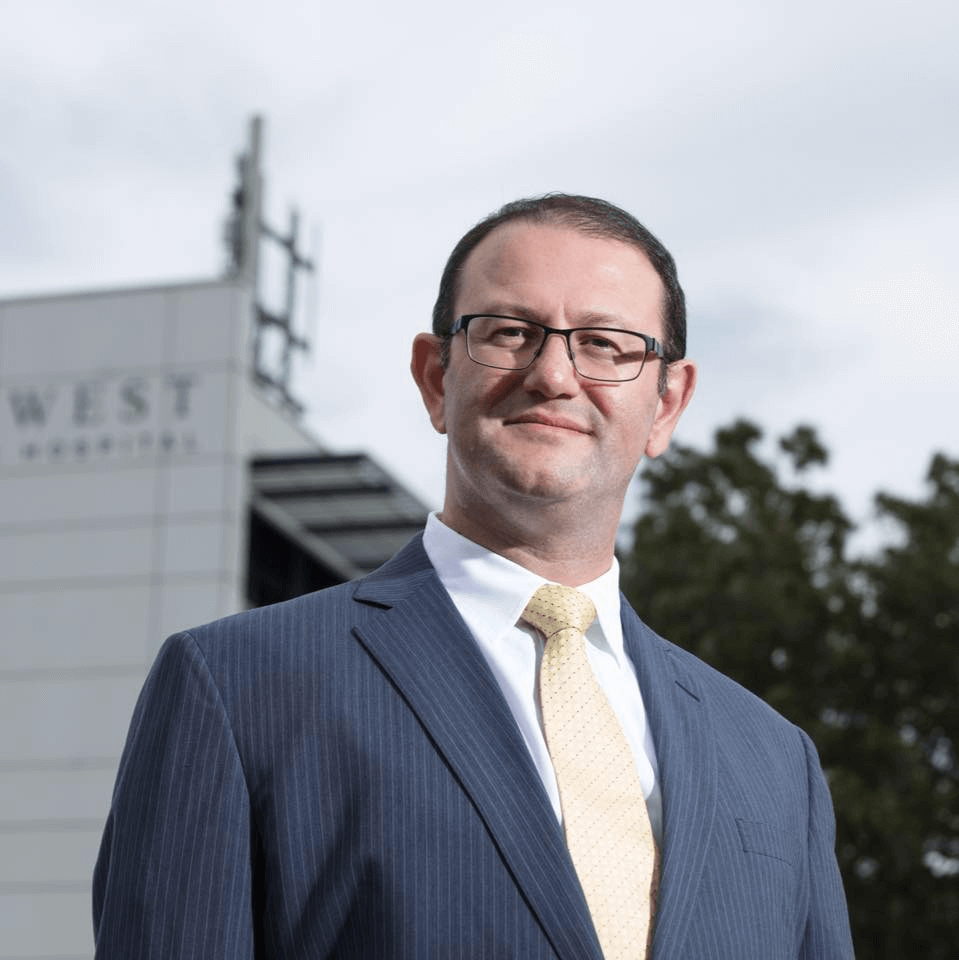 Dr John Ozmen
MBBS, BSc(Med)(1 Hons), FRACS, ANZGOSA
Dr John Ozmen is an Australian educated consultant general surgeon with both domestic and international training experience. He holds sub-specialty accreditation in upper-GI and bariatric surgery. He has considerable experience in laparoscopic ("key hole") surgery, especially in the fields of hernia surgery, upper-GI (reflux surgery), weightloss (gastric sleeve, by-pass) and gallbladder surgery.
Qualifications & Certifications:
Bachelor of Medicine & Bachelor of Surgery (MBBS)(UNSW)
Bachelor of Science in Medicine (Major: Anatomy with 1st Class Hons)(UNSW)
Fellow, General Surgery, Royal Australasian College of Surgeons (FRACS)
Certified, Upper-GI Surgeon, Australian & New Zealand Gastric & Oesophageal Surgery Association (ANZGOSA)
Certified, Endoscopy: Gastroscopy & Colonoscopy (GESA)
Member, Australian & New Zealand Gastric & Oesophageal Surgery Association (ANZGOSA), 2014
Member, Australian & New Zealand Metabolic & Obesity Surgery Society (ANZMOSS), 2013
Member, International Federation for the Surgery of Obesity & Metabolic Disorders (IFSO), 2013
Member, Australia & New Zealand Hepatic, Pancreatic & Biliary Association (ANZHPBA), 2015
Member, European Association for Endoscopic Surgery (EAES), 2015
Education, Training & Research
Dr Ozmen completed medical training at UNSW in 2001 with first class honours and went on to complete surgical training with the Royal Australasian College of Surgeons in 2011. He then undertook further sub-specialised surgical training in the key areas of his clinical practice.
Sub-Specialised Surgical Training:
St Vincent's Public & Private Hospitals, Darlinghurst, NSW (2012)

Upper-GI Surgery Training Fellowship

St George Public & Private Hospitals, Kogarah, NSW (2013)

Upper-GI & Bariatric Surgery Training Fellowship

AZ Sint Jan Hospital in Bruges, Belgium (2014)

Bariatric & Minimally Invasive Surgery Training Fellowship
During Dr Ozmen's surgical training fellowship in Belgium, he trained under Dr Bruno Dillemans, who is one of the world's most experienced bariatric surgeon – having performed over 10,000 successful bariatric procedures.
Dr Ozmen has advanced surgical skills in minimally invasive "key hole" surgery (for hernia and gallbladder procedures) and bariatric surgery (gastric sleeve, bypass, gastric balloon and gastric banding) for weight loss surgery.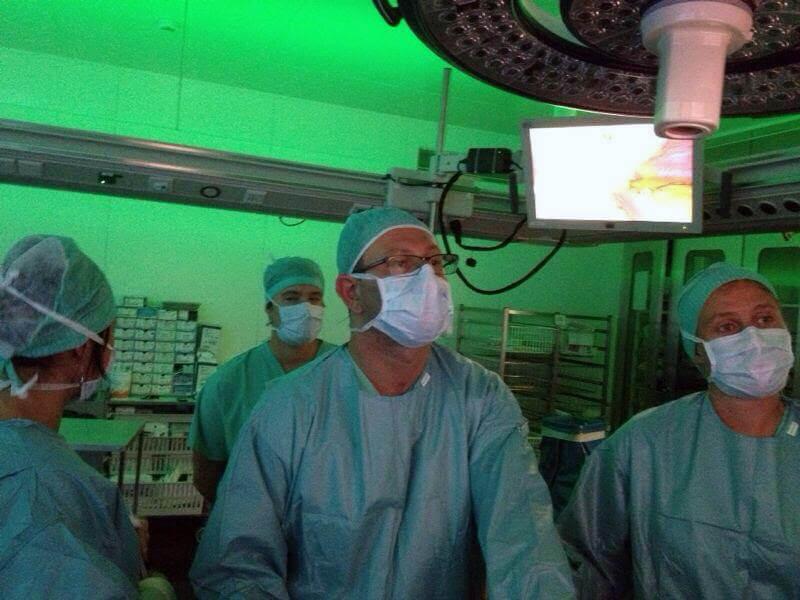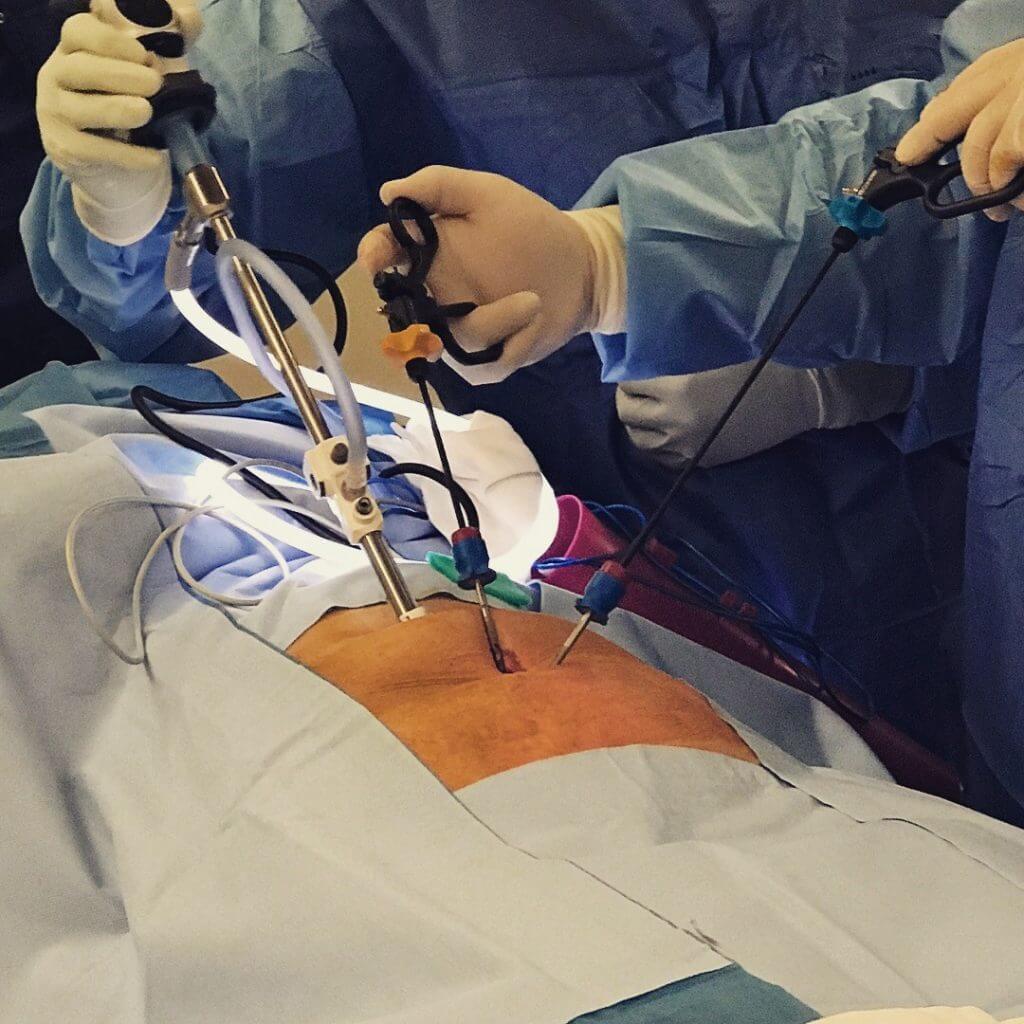 Minimally Invasive Surgeon
Dr Ozmen is passionate about minimally invasive "key hole" surgery, which offers faster recovery time and less post-surgical pain, and has performed over 3,000 laparoscopic operations; with over 1,000 of them in weightloss and bariatric surgery (including lap band surgery, sleeve gastrectomy, gastric bypass, and revisional procedures for failed bariatric surgery performed elsewhere).
In this photo, Dr Ozmen can be seen using the new 'mini port' laparoscopic technique, which leaves near invisible scars on the patient post-surgery.
Specific Areas of Experience:
Minimally invasive laparoscopic ("key hole") approaches to surgery
Weight loss and bariatric surgery (particularly gastric sleeves)
Acid reflux and GORD surgery for unbearable reflux
Gallbladder (cholecystectomy) surgery
Hernia surgery
Hernia Surgery Research:
Dr Ozmen has a strong interest in academic research and advancing new surgical treatments, and was lead author on a peer reviewed scientific study into hernia surgery – comparing post-surgery pain after laparoscopic hernia surgery using a self-gripping mesh versus conventional methods.
Locations
Hospital Accreditations:
Dr Ozmen operates from the following hospitals:
Norwest Private Hospital
Westmead Private Hospital
Hurstville Private Hospital
Prince of Wales Private Hospital
Campbelltown Private Hospital
Sydney South West Private Hospital
Consulting Locations:
Dr Ozmen consults from the following locations:
Bella Vista
Dural
Liverpool
Hurstville
Campbelltown
Dr Ozmen performs a significant volume of general surgery and weight loss surgery at Hurstville Private Hospital.  Hurstville Private is a Certified Centre of Excellence in minimally invasive surgery (keyhole surgery) and is an advanced surgical centre.